Creating a show-stopping corporate event that makes a real impact against cancer
Creating a show-stopping corporate event that makes a real impact against cancer
Corporate Responsibility programs build an environment of trust between large companies, their employees and the public. For major corporations like Delta Airlines, programs like the American Cancer Society's Relay for Life® event take on a life of their own, and the participating teams (over 70 of them!) get very competitive. We were asked to help Delta's HR department brand their team and build a community around this important cause.
From logo to concert t-shirts, banners, posters, and limos, we helped our team steal the show with a theme called "Rockin' for a Cure." The level of excitement was so high that we sold out of t-shirts within an hour, and Delta's HR team won the Corporate Team Spirit Award.
Out of the 70+ Delta teams competing, they were truly Rock Stars that day in the fight against cancer.
Backstage
The original idea behind "Rockin' for a Cure" was as if Delta's HR team was going on tour. They came to us needing team shirts with a rock n' roll concert feel and a brand identity that would carry them through coming years. We delivered on the shirts, but we didn't stop there. We wanted to know what else was possible, and we kept the ideas coming.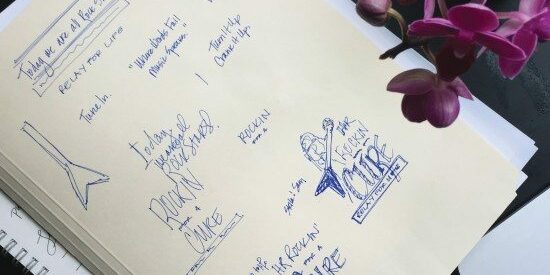 Designed to Amplify Team Spirit
Every year, Delta Airline employees participate in the Delta Day of Hope, modeled after Relay For Life, the American Cancer Society's signature fundraising event. Participants put their all into creating themes that leave a lasting impression, and we were honored to help.
Fighting cancer is a personal issue for those of us at Cushman Creative, so we pulled out all the stops to help our team win. We started by creating the motivating tagline "Crank it Up. Turn Cancer Down," and then we amplified it with events, décor and design that kept the energy going.
Key members of Delta's HR team arrived in limousines, dressed like rock stars and ready to sign autographs. They were greeted by screaming fans in band t-shirts, and a venue that was fit for the Rolling Stones. We designed tent banners, popup banners, and posters big and small to set the stage for an event that raised the bar for all the Delta teams competing next year. In fact, we're already thinking about our encore.
Takeaway
Design has the power to amplify ideas in a way nothing else can. By carrying an idea through in every detail, we turned a Corporate Responsibility event into an experience that participants will never forget.
This what we came up with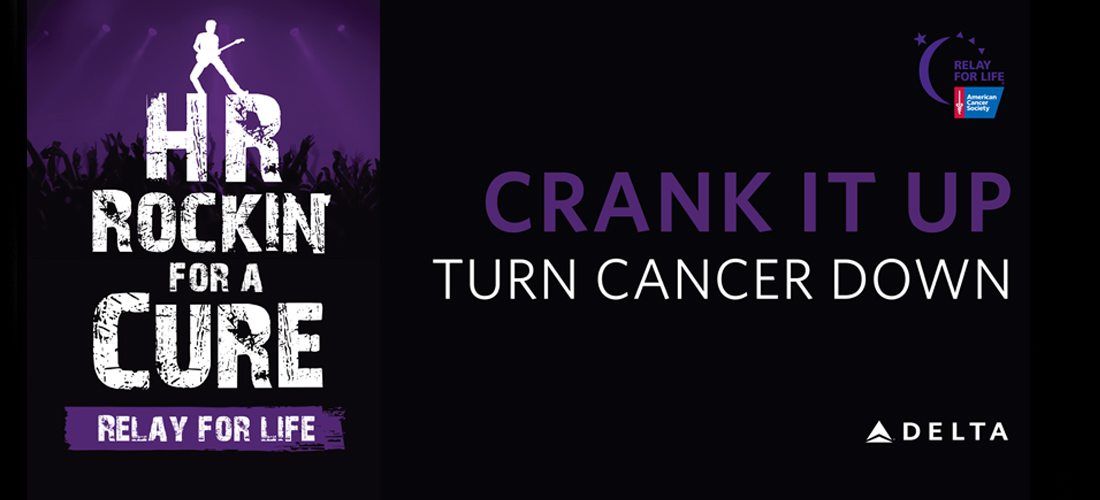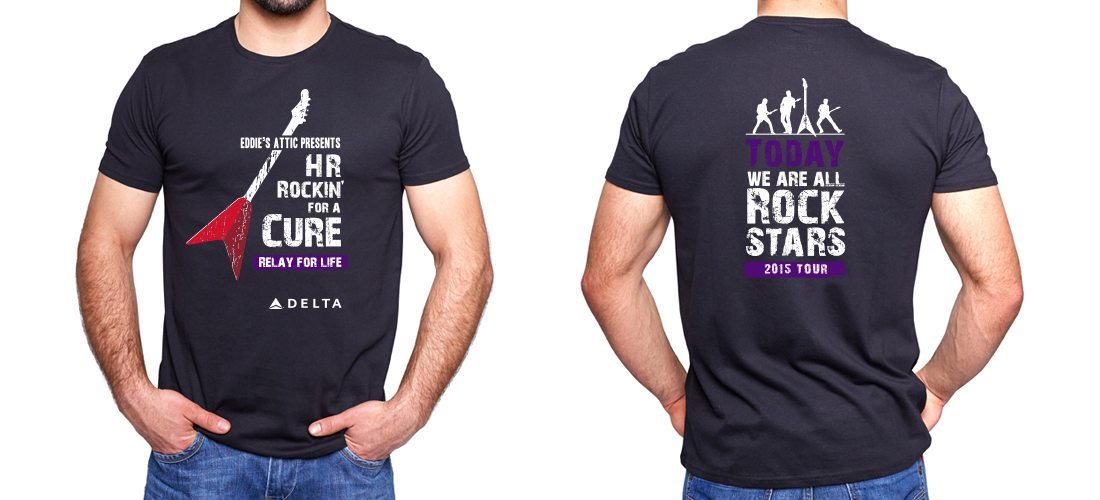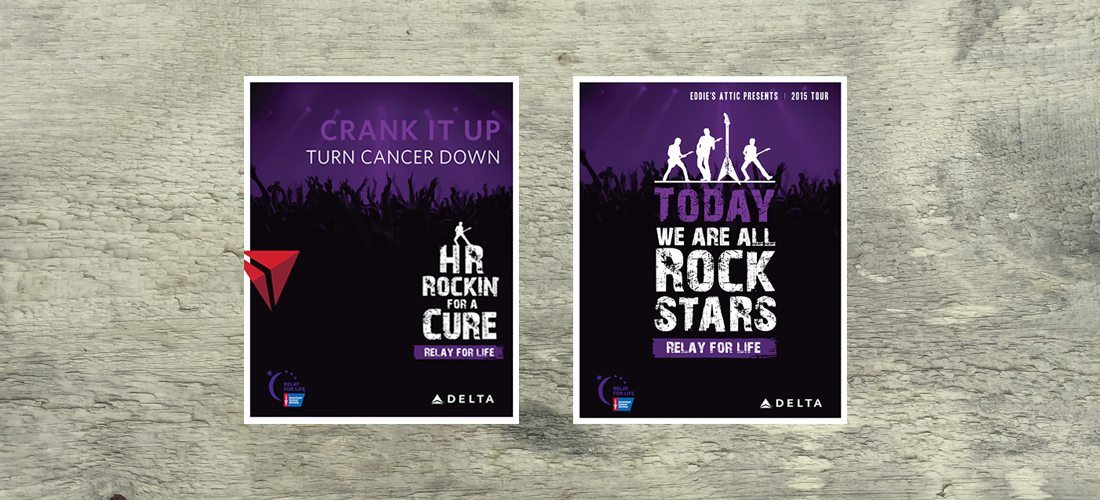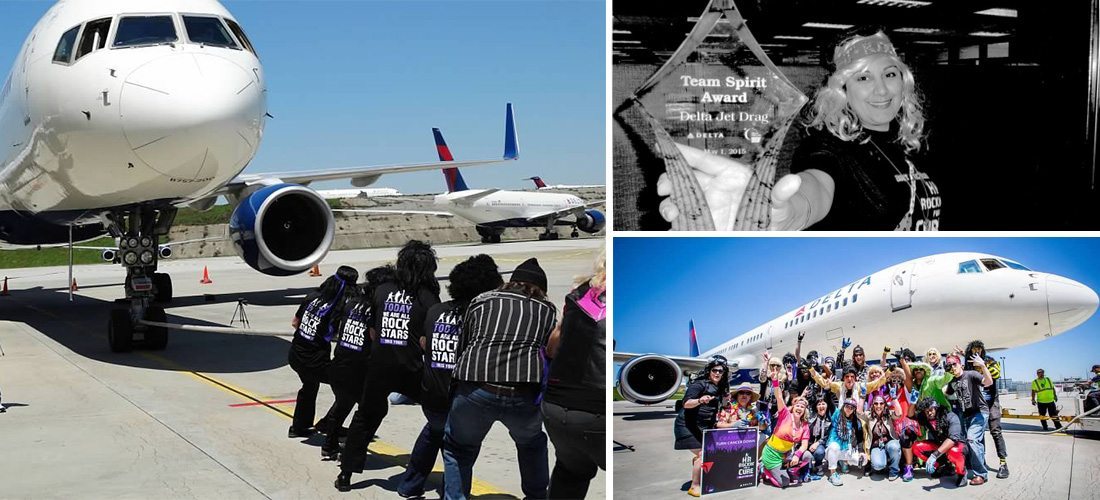 WHAT WE DID
• Brand Identity
• Creative Expression
• Messaging
• Event T-shirts
• Event Posters and Banners
Taking centerstage in the fight against cancer
"We had high expectations for a theme that would fit our team's inaugural participation in Delta's Relay for Life Jet Drag fundraiser. Karan and her team quickly heard my ideas and not only transformed them into reality, but also into the winning Corporate Team Spirit trophy. The experience was exceptional and design highly praised. We are already imagining what we can do together next year." – Jae Kullar, Delta Air Lines, HR Manager
Interested in seeing more of our work?
Drop us a note and let us know what's on your mind.