For Health Science Executives
Cushman Creative Honored with Platinum dotCOMM Award for MDI Biological Laboratory Website
Cushman Creative Honored with Platinum dotCOMM Award for MDI Biological Laboratory Website
Website celebrates 125 years of cutting-edge science and positions Institution for a new era of growth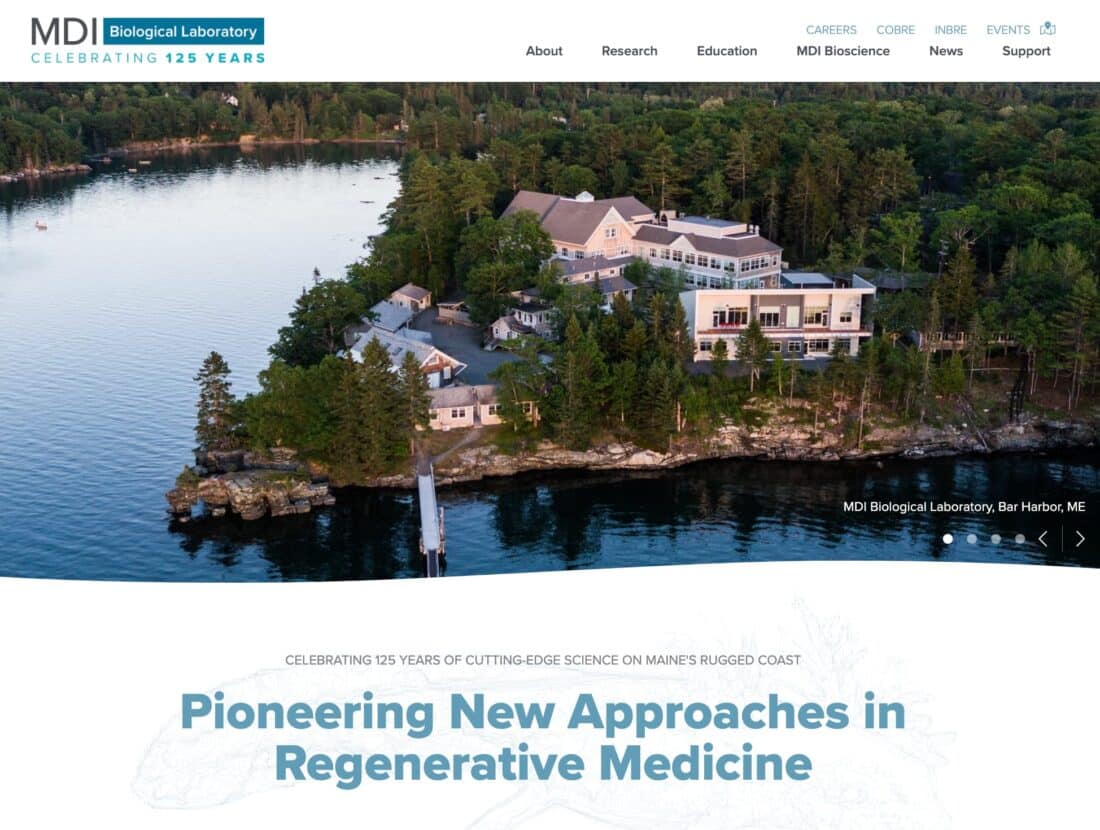 Port Clyde, Maine – November 14, 2023 – Cushman Creative, a brand experience and marketing agency specializing in the health sciences, today announced it received a platinum dotCOMM award for its work on a new website for non-profit research institute MDI Biological Laboratory.
The international DotCOMM competition honors excellence in web creativity and digital communication. Other 2023 winners include Amazon Science, Bank of America, United Healthcare and Caterpillar, McKinsey Global Publishing and Virgin Brands.
Cushman Creative CEO and Brand Strategist Karan Cushman led development of the website in close collaboration with the MDI Bio Lab's Public Affairs and Development Team. Cushman believes the site is garnering attention because her team applied design thinking principles and user experience (UX) methods from the start.
"Design thinking is a user-centered philosophy of brand building that continually focuses on the wants, needs, and pain points of its audience," says Cushman. "Rooted in this understanding, we were able to present MDI Bio Lab's online story in a highly relevant and engaging way. One key feature of the website experience is a dynamic timeline that leads readers through the rich, 125-year-long history of the Institution."
Designed to Connect
MDI Biological Laboratory is a scientific organization focused on finding solutions to aging and improving our quality of life by looking to the natural world for inspiration. The Institution is adjacent to Acadia National Park and situated along Maine's rugged coast, giving its scientists, students and staff a deep appreciation for natural ecosystems and the opportunity to study regeneration at nature's most elemental levels — cellular, genetic and molecular. The MDI Bio Lab's new website reflects the wonder of this magnificent setting and its potential for impacting human biology.
Cushman says, "Throughout the site, we used imagery that conveys this sense of place as well as the hands-on discovery, collaboration and diversity that make MDI Bio Lab a vital scientific community. We are honored that the dotCOMM judges recognized our work with a platinum award. The website exemplifies how design thinking and technology can create brand experiences that are both impactful and deeply human at the same time."
Driven by a Shared Passion for Discovery
The Maine-based team at Cushman Creative shares the Institution's passion for improving quality of life, which is why the agency focuses on health science marketing. This shared passion has solidified the long-term partnership between the Cushman Creative and MDI Bio Lab leaders.
Vice President of External Affairs, Jerilyn M. Bowers, says, "Over a decade-long engagement with Cushman Creative, Karan has helped us evolve our brand while preserving MDI Bio Lab's distinguished reputation through numerous transitions. Karan's strategic approach, exceptional creativity and unfailing attention to detail help us maintain consistency across all communications, from our quarterly magazine, Breaking Through, to our capital campaigns and more. This new website is the culmination of all that we've accomplished together and a critical foundation for the next ten years of our Institution's growth, which includes plans to expand our technical capacities and enter the world of applied science and drug development through our new subsidiary MDI Bioscience."
Founded in 1898 amid a new era of scientific thinking, MDI Bio Lab upholds a legacy of pushing scientific boundaries and challenging conventional thinking. For generations, it has served as a research think tank, and now a world-class laboratory facility, that combines a passion for collaboration, discovery and the pursuit of knowledge. Cushman Creative utilized design thinking to highlight this history of innovation and inspire those who are new to the Institute's work to participate in its mission going forward.
"Over the last decade the MDI Bio Lab has been elevating its presence in the global biomedical community," said President of MDI Bio Lab, Herman Haller, M.D. "This year marks our 125th anniversary, and we wanted our website to be true to our historical character while maintaining a sense of scientific excellence and professionalism. Cushman Creative enabled us to communicate our history, our mission and our unique culture in an easy-to-understand way that resonates with our broad range of website visitors."
About dotCOMM Awards

dotCOMM Awards is an international competition that is unique in how it reflects the role of creatives in the dynamic web that is transforming how we market and communicate products and services.
About Cushman Creative
Cushman Creative has been the agency of record for the MDI Biological Laboratory since 2012. Founded in 2007, Cushman Creative is a brand experience agency that uses the power of design to help health science organizations communicate their value and advance human health. To learn more, visit cushmancreative.com
Press Contacts
Karan Cushman, CEO, Cushman Creative, karan@cushmancreative.com
Fred Bever, Chief Communications Officer, MDI Biological Laboratory, fbever@mdibl.org