How do you create a magical event for donors that makes dreams come true?
How do you create a magical event for donors that makes dreams come true?
When Make-A-Wish® Maine hosts its annual Fantasy Auction, its most important fundraising event of the year, the goal is to create an experience that leaves a lasting impression. That means collaborating with board members to come up with a theme that can't be topped—and then topping it every time. Cushman Creative is regularly chosen to design these events because we understand the magic ingredient: Unbridled imagination.
Since 2003, Cushman Creative has been helping Make-A-Wish Maine reimagine its Fantasy Auction by brainstorming themes, creating mood boards, and designing event details such as save-the-dates, invitation packages, programs, posters, the website and more.
And while we like to think that four months of thoughtful planning and creativity is what makes the event, the real magic happens that night when you feel the Power of a Wish® through personal stories and later hear we exceeded our fundraising goal once more.
Numbers drive everything we do
89%
The percent of health professionals who believe a wish can influence a child's health.
$8,141
The average cost of a child's wish.
$150,000
One night. One big fundraising goal.
Behind the Magic
Make-A-Wish knows a thing or two about bringing dreams to life, so when we help create a theme-based event like a Fantasy Auction for them, we want to capture that same spirit. We work in lockstep with their team to choose an inspiring theme and pull it through to every last detail from the save-the-date to the event feel and design.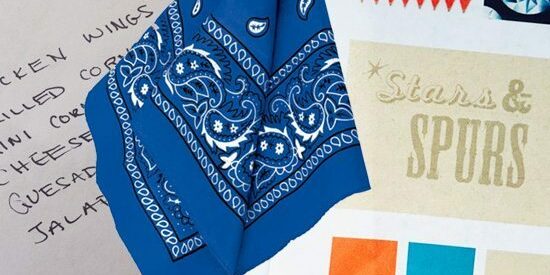 Designed to Draw a Crowd
The invitation-only Fantasy Auction is held for exclusive guests who come to share an evening with an organization close to their hearts. Without these generous individuals many wishes would go unrealized, so it is our goal to ensure that fond memories are made.
Design plays a powerful role in how people experience an event. Over the years, we have enthralled guests with a broad range of themes including A Midsummer Night's Dream, a red carpet Oscar's-inspired event, a garden party, circus and country western themes and more. No matter what the inspiration, we work to create synergy between the event planning and the print pieces to transport the crowd somewhere spectacular and leave them wondering what the following year will bring. The result is that they keep coming back, and we meet or exceed our fundraising goals with every event. And that is what it's really all about.
Takeaway
As an agency we support brands that benefit human health, and a better quality of life is part of that equation. We love our work with Make-A-Wish because it improves the lives of children everywhere. In addition to Fantasy Auctions, we also support other Make-A-Wish fundraising events like walks and holiday campaigns that empower internal teams year after year.
Some of our work over the last ten years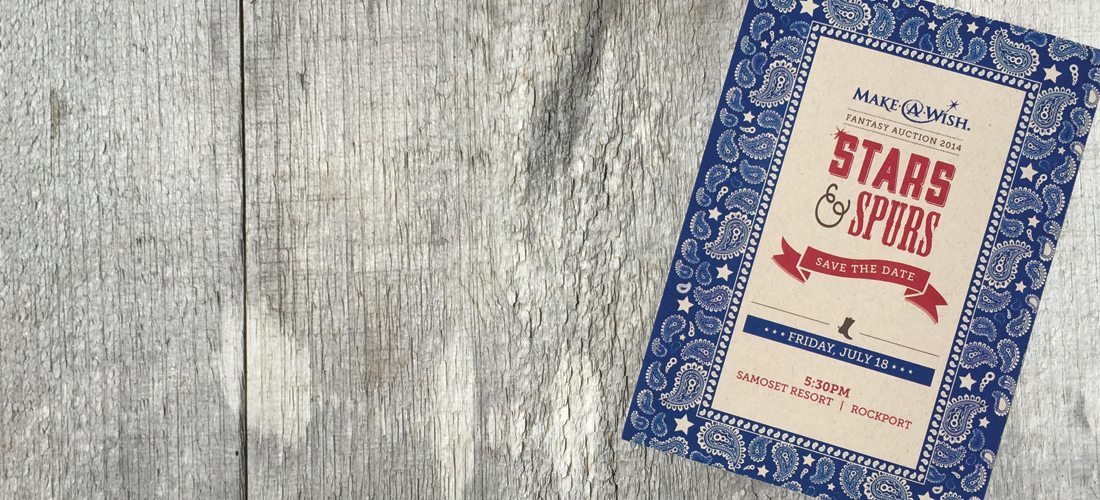 Fantasy Auction
This country-western theme may have been the best yet we heard from attendees who dressed the part, rode the bull and tipped their hat to a surprised wish child as he drove off into the sunset on his brand new four-wheeler.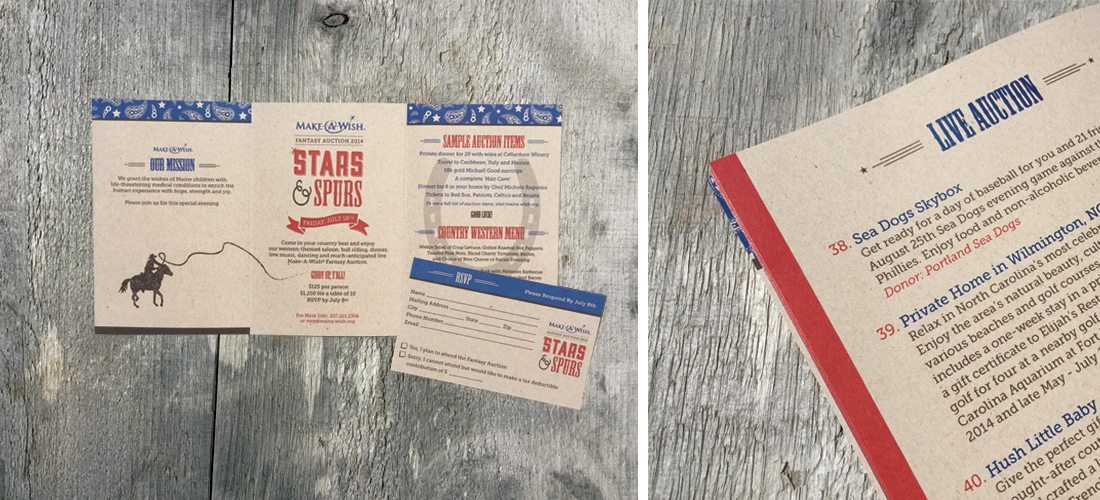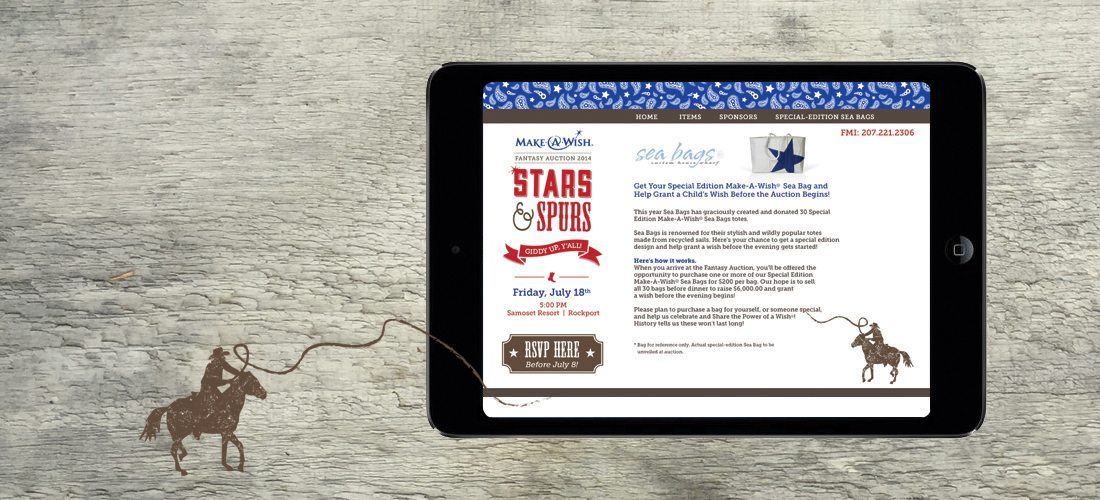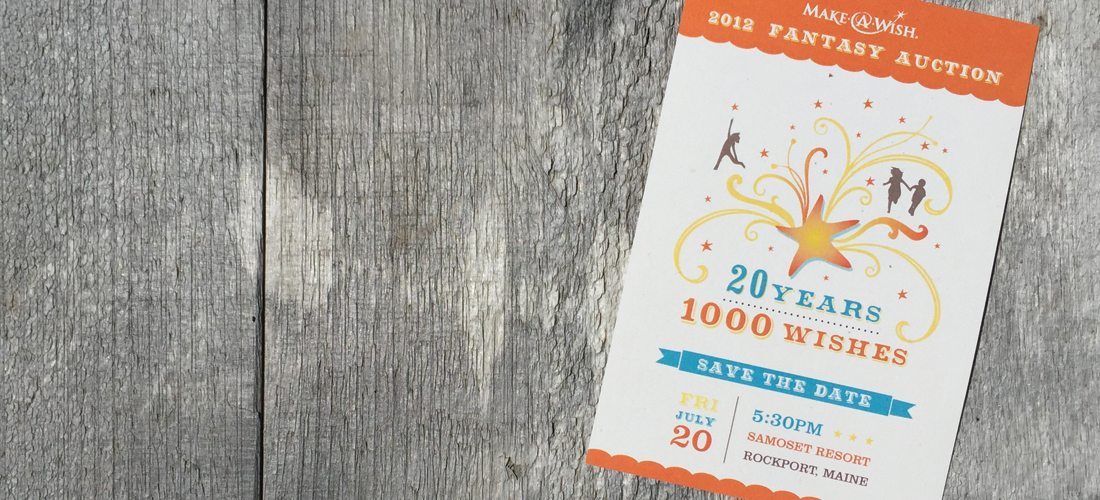 Fantasy Auction
Come one. Come all. This year a carnival theme celebrated the Chapter's 20th anniversary and 1,000 wishes come true. Doors opened to a miniature version of the hot-air balloon from the movie UP, complete with a basket full of donated games for the wish closet.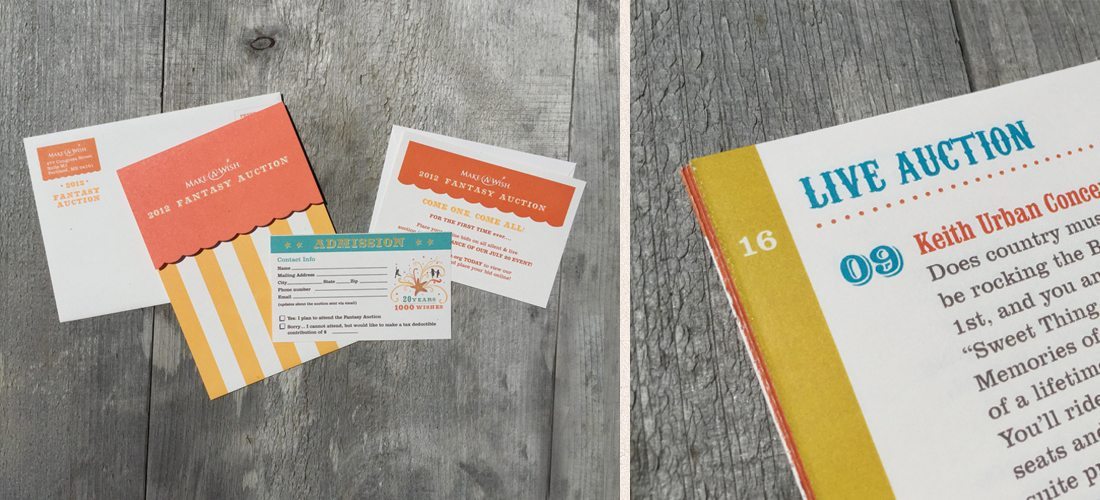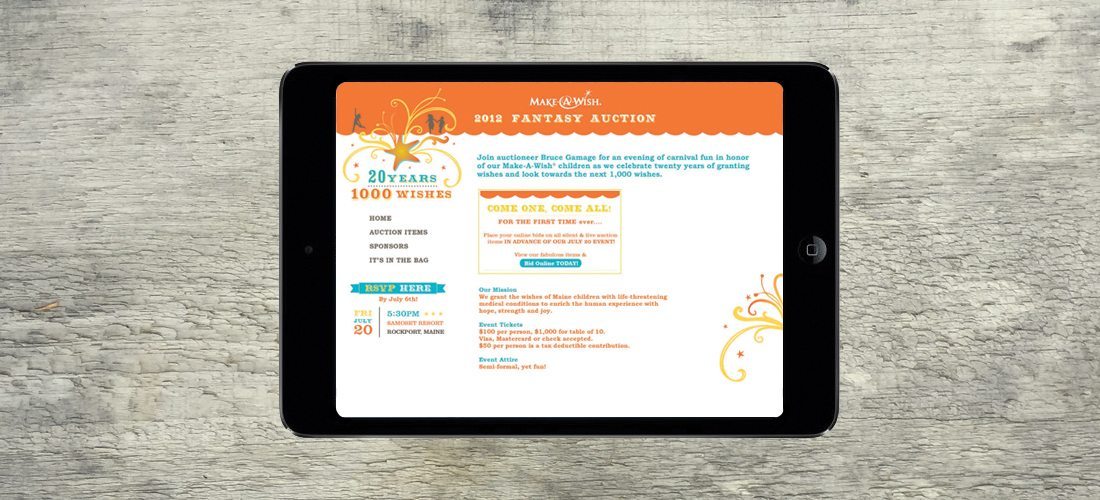 HOW WE HELP
• Theme Visual Development
• Invitation Package
• Auction Program
• Auction Website
• Event Planning
• Event Decor + Graphics
Exceeding the fundraising goal, year after year
Since 2003, Cushman Creative has helped Make-A-Wish Maine with numerous events and publications. From branding annual events like Walk-for-Wishes and Stories of Light to their annual report and endowment campaign, we're proud to be a part of the team.
"Our partnership with Cushman Creative has increased awareness of our campaigns and streamlined how we coordinate our marketing efforts tremendously. Their dedication and support has made many more wishes come true."  – Tom Peaco, Executive Director
Need help branding an upcoming event?
Whether a campaign launch, fundraising or corporate event, having the right creative vision and planning skills to pull everything together and generate excitement makes all the difference.