When a Biomedical Institution asks key donors for big dollars, every detail counts
When a Biomedical Institution asks key donors for big dollars, every detail counts.
A capital campaign is one of the most intensive fundraising activities a research institution will ever undertake. The "ask" is big. And the future of scientific discovery and institutional success at stake.
This case statement for MDI Biological Laboratory supported a $15 million campaign to expand infrastructure and secure talent for its growing regenerative medicine focus. Our charge was to engage a non-scientific audience from the start by communicating the importance of their support and this life-changing research in diminishing the effects of chronic aging diseases like Alzheimer's and Parkinson's.
Catalyst for Cures was designed as a Leave Behind that would summarize and reinforce MDI Biological Laboratory's messaging after an in-person meeting. It was created with the solitary reader in mind. Would they simply glance at it and put it away to revisit later? Would they be compelled to read cover to cover in one sitting?
We created an award-winning piece that would be powerful either way.
Key data inspired our team and informed our thinking
80%
Percent of older adults who suffer from one or more chronic diseases.
#1
Heart disease kills more people than AIDS and all cancers combined.
6th
Alzheimer's is the 6th leading cause of death in America and growing.
800,000
Number of Americans who suffer a stroke each year, many left paralyzed.
Behind the Scenes
The real work for Catalyst for Cures began months before in the creation of a case statement for internal stakeholders. Why the extra step? We had to prove we had a clear strategy for success. The Internal Case allowed us to formulate a plan and develop storylines that would resonate with key stakeholders. It also helped us craft a more compelling appeal that would ultimately empower board members and development teams as they reached out for external support.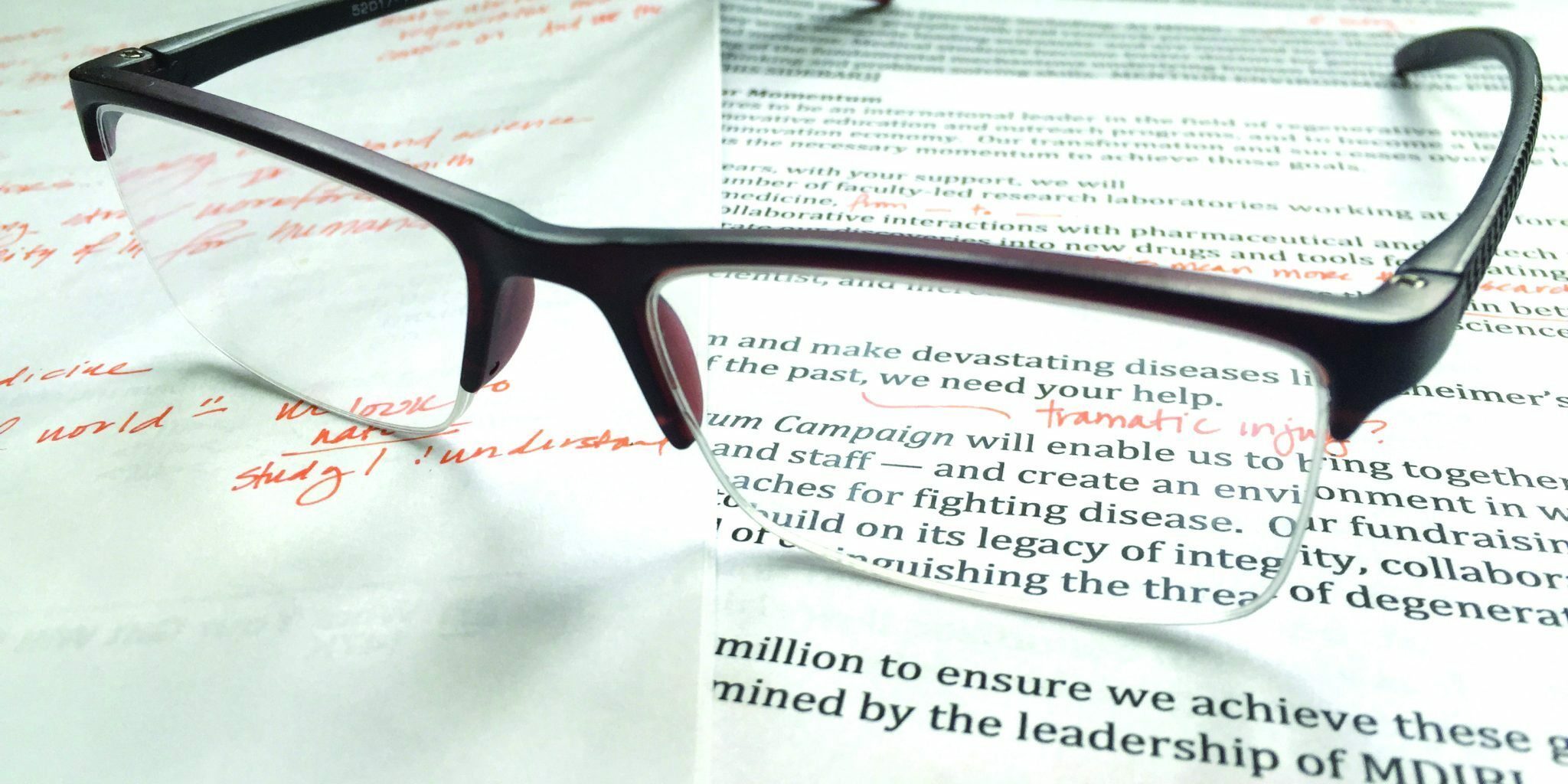 Designed to Leave a Lasting Impression
MDI Biological Laboratory's Case Statement is intended to capture the imagination of its audience before they even open the cover. From the very first word to the last, every element of the design and message is deliberately chosen to keep readers turning the page. The background images of tissues and cells are arresting because they are presented in sharp contrast and brilliant color. Initially, viewers may not be sure what they are looking at, but they recognize it as something magical, something elemental—and they know that it matters. These are the visual touches that grab attention and keep people reading.
Photos of everyday people are interspersed with this awe-inspiring imagery. This juxtaposition is important, because it creates a visual connection between the science and the people whose lives science touches. Young or old, aging is something we all have in common. Demonstrating this through intimate, friendly photography reminds the reader that the Institution's research ultimately impacts them and their loved ones, too. Words are important for bringing a message home, but sometimes imagery can do it in much more subtle ways that resonate on a deeper level.
A high-gloss spot-varnish is used throughout to give the Case Statement a feeling of quality and to emphasize important takeaways. For instance, the cover features an image of damaged heart tissue. The turquoise areas represent the new, regenerated tissue—the result of the Institution's research. A delicate combination of spot-varnishes adds emphasis. Elsewhere in the Case Statement, bands of color or bounding boxes highlight other important information. These areas are also spot varnished so that they stand out more.
This piece was also printed with UV inks, a newer printing technique that offers a radiance to color and spot varnishes unachievable with traditional inks. By adding drama and emphasis with creative printing techniques such as these, we were able to show attention to quality and detail while supporting MDI Biological Laboratory's message to the fullest.
Takeaway
Bioresearch companies are challenged by the need to translate complex science into a universal experience in order to gain the support they need to move research forward. Going the extra mile to ensure that a marketing piece touches its audience on every level is what makes the difference between communicating and connecting.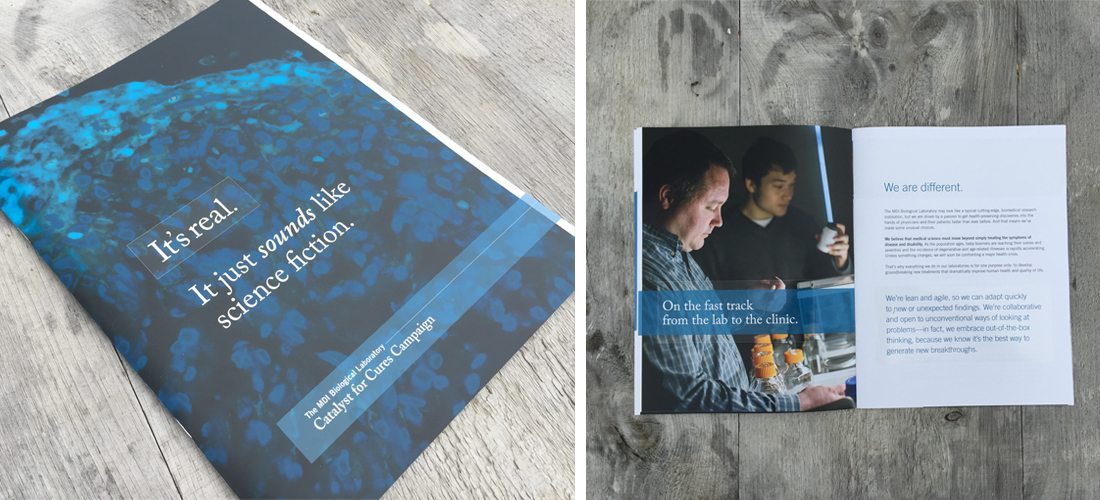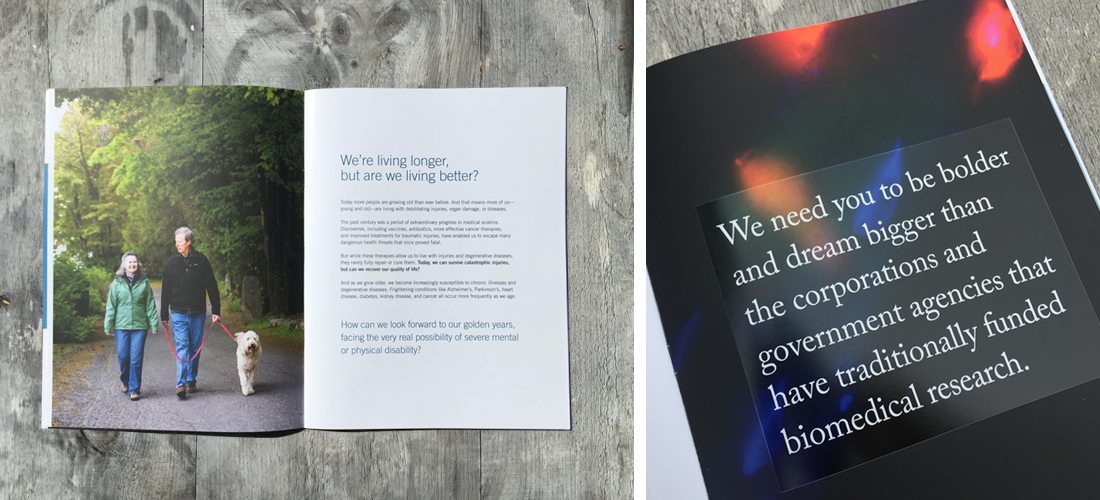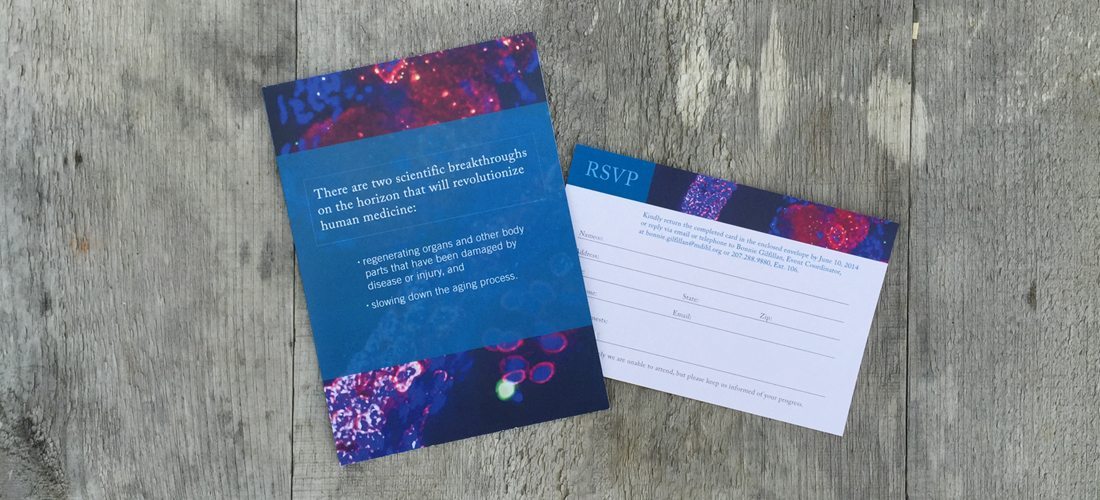 WHAT WE DID
• Internal Case Study
• Content + Design Strategy
• External Case Statement
• Event Invitations
• Event Banners
The MDI Biological Laboratory is more than half-way to their fundraising goal and "Catalyst for Cures" remains a critical component in their ongoing donor development.
It has received rave reviews from fundraising communication experts like Tom Ahern, "It's brilliant, beginning to end. You've set a new standard. Which makes my work in the future SO much easier…This is the best I've ever seen. Congratulations."
To date, the case statement as be recognized by two premier design competitions: A merit award in the 2016 Graphis Design Annual, a prestigious international design  journal and a Platinum Hermes Award, alongside premier brands like Audi, Conde Nast, Aflac, and firms such as Saatchi & Saatchi, NY and Pentagram.
Need help making your case?