The Science of Marketing Bioresearch Brands.™
Lobster Boat Branding Wins Gold
Lobster Boat Branding Wins Gold

Thinking "outside the shell" produces a distinctive, award-winning brand
Any design agency along the Maine coast is bound to dabble in the fishing industry. And while Cushman Creative normally focuses on the Health Science industry, we're proud of our home region and jumped at the chance to tackle branding for a lobster fishing vessel.
Lobstering is one of the most dangerous and physically demanding jobs in the world. The risks bring great rewards, because Maine lobster is the most valuable species in US seas. The rise of popular TV shows like Deadliest Catch, Wicked Tuna, and others have depicted fishermen as heroes striving against nature. That has led to rising demand, and even some competition, for cool and edgy lobster boat branding.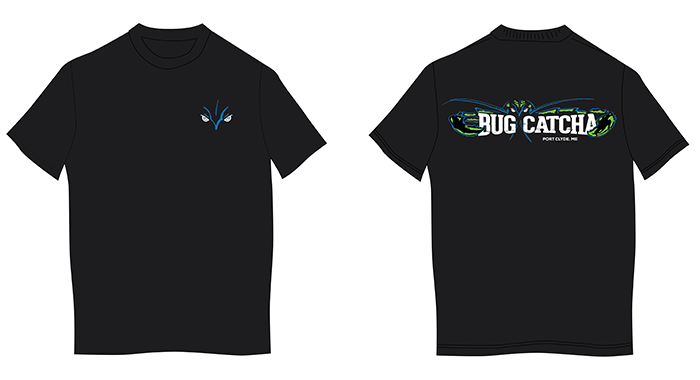 So when the owner of the fishing vessel Bugcatcha approached Cushman Creative for a new logo, he wanted a design that represented the realities of his business. We were encouraged to emphasize the carnivorous nature of his harvest, which fishermen commonly call "bugs."
In one word: fierce!
No more "Mr. Nice Lobster"
The resulting lobster boat branding features reversible graphics that span the stern of the white boat. Black apparel for the crew goes a step further, making the white of the lobster's eyes seem to come alive — exactly the dramatic effect we were after. The color palette was chosen to more closely symbolize a live lobster, rather than its red, cooked counterpart.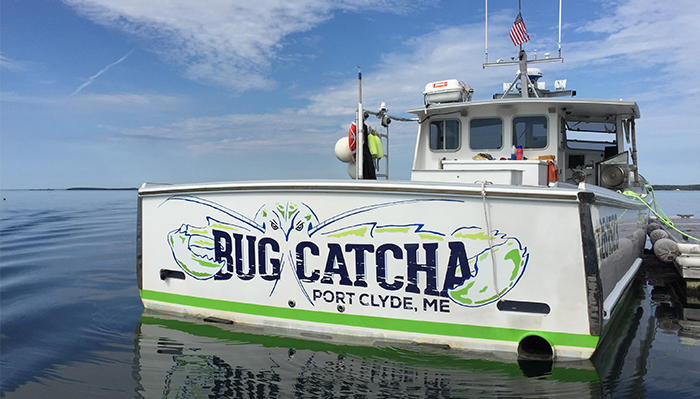 Commercial Fishery News featured the boat on its cover after the new logo was launched. It continues to be one of the most distinctive-looking fishing vessels around.
The Bugcatcha logo also earned a Gold Award from MarCom Awards — one of the oldest, largest and most prestigious creative competitions in the world — in November of 2018.
The MarCom Awards recognize outstanding achievement by creative professionals involved in the concept, direction, design and production of marketing and communication materials and programs. Judges from the Association of Marketing and Communications Professionals (AMCP). They look for work that exceeds a high standard of excellence and serves as a benchmark for the industry. Winners are selected from more than 300 categories in Print, Web, Video and Strategic Communications. Other 2018 winners include Aflac, Fox Chase Cancer Center, Fred Hutchinson Cancer Research Center, IBM, Microsoft, Coca-Cola and Weber Shandwick.