The Science of Marketing Bioresearch Brands.™
Custom infographics win your brand attention, business, and recognition
Custom infographics win your brand attention, business, and recognition

Marketing best practices are a moving target, but custom infographics still offer benefits for any health science brand.
Custom infographics are a serious commitment for any business. They take time, money, and brainpower to create. We even know a few creative agencies who've tried to use them in their own content marketing and given up.
Despite all this, we still think custom graphics are worth the effort, especially in the health sciences industry. We see them as a way to continue to innovate a product we've been producing for some time, and to keep it distinct. In this article, I'll share how we came to that conclusion and give you a "behind-the-scenes" view of some of the results we've achieved.
A blog is born
Unlike many agencies at the time, we were very strategic about our purpose and commitment when we started the Kelp-beds blog back in 2011. It wasn't just a quick addition to our agency site. That said, when it came to imagery, we did what many organizations do. We used stock photography to convey the concept of each post. And we did it for the same reason our colleagues did (and many still do). It was cheap and fast.
At the time this approach was enough. Content marketing was still pretty new, so the writing itself was sufficient to make a blog stand out. It was more important to publish regularly and focus on certain keywords in the hope your content would be "discovered." Images were a supporting afterthought.
But even back then we went a step further. Unlike most of our colleagues, we made a conscious decision not to use the blog to market ourselves. Instead, we treated it like a completely separate entity. We wanted it to be a true educational resource, not a self-serving mouthpiece for our agency. Why all the separation? Because our goal was to build trust in our expertise by helping companies and brands we believed in to succeed. Our objective was not to generate sales, but to cultivate a strong reputation.
A lot of other work went into the blog. We gave it a crazy name — "Kelp-beds" — to pique curiosity, help it stand out, tie-in with the life science industry, and pay homage to our coastal Maine location. Key clients and prospects were interviewed about the branding issues they grapple with every day. We created a tagline, masthead, separate WordPress site, and went live with 20 published articles.
Beyond stock images
After the initial launch, we updated the blog fairly regularly. We kept you engaged with e-newsletters and attracted several thousand social followers. And we did most of the other stuff good marketers are supposed to do to keep your blog fresh. Then we essentially went on autopilot.
Then in 2015, we published a post on infographics that got us thinking differently. If graphics like these were so powerful and attention grabbing, why wasn't our own blog taking a similar approach?
Content marketing wasn't new anymore. In fact, there was too much of it – and more bad content than good. Once again, we needed a way to make our content unique and make it worth your time to read.
The answer was simple. The writing didn't need to change, but the visual content needed to be unique. Why weren't we already using the power of design for ourselves not just our clients?
So we created a new visual style for the blog. It was designed to show off our capabilities, as well as our conceptual and creative thinking. The unspoken message: "We can do this for you too."
In addition, we developed a complete style guide and library of visual assets. This includes font and color palettes, plus a set of characters that can be used and modified over and over. This speeds both decision-making and the design process, while allowing a team of designers to collaborate seamlessly. (It's worth noting we reused images from our own "stock" library for this post.)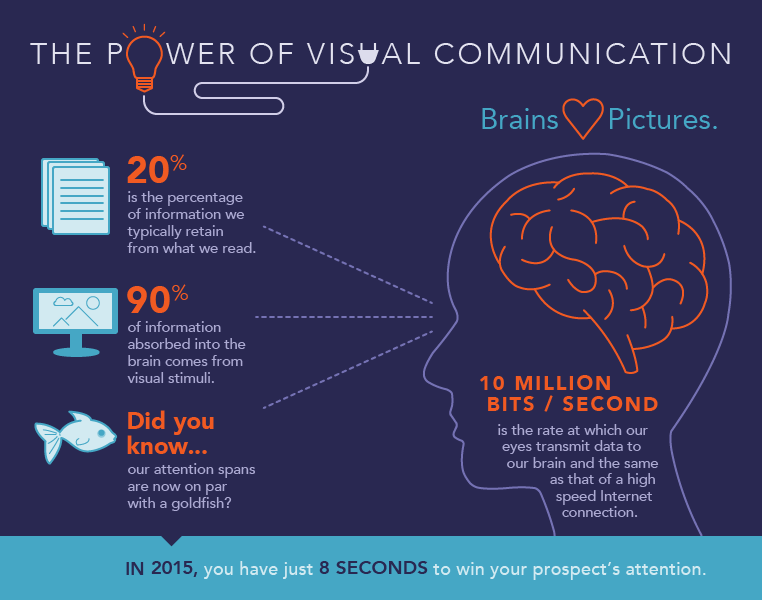 Why custom infographics work — and win awards and new business
Here's how custom infographics have helped Cushman Creative differentiate its brand and blog:
By demonstrating that we take our content seriously. Our willingness to invest in it sends the message that we value our readers. It implies that the blog is more than yet another agency's spin on a trending marketing tactic.
Providing "stopping power" that helps our content get the attention it deserves.
The unique approach shows off what we can do for clients.
By working as a visual extension of the Cushman Creative brand.
The blog attracts new clients because it stands out, showcases our design talent and reveals more about how we think – even though business development isn't its primary goal.
We may not publish articles as regularly as I'd like. After all, client work comes first. But when we do, its content we know our clients are thinking about. We're fortunate that it's attracted a following as an educational resource, not a hard a marketing channel. Unique custom infographics are a significant part of that success.
The industry seems to agree. Earlier this year, Cushman Creative was honored with two 2018 Hermes Creative Awards, one for its blog infographics and another for our branding work with the Maine Coast Fishermen's Association. The Kelp-beds infographics received a platinum award — the organization's top honor.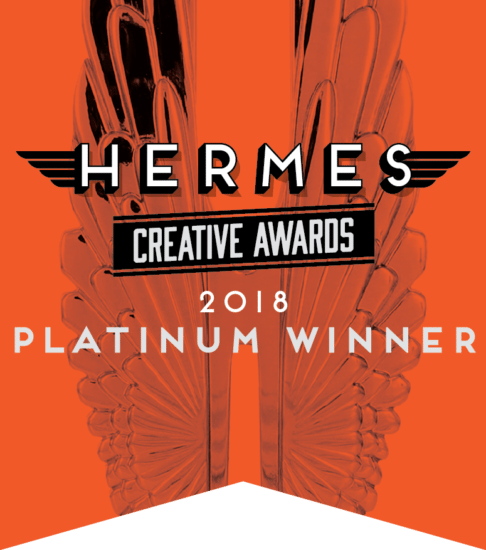 Hermes Creative Awards is an international competition for creative professionals involved in the concept, writing and design of traditional and emerging media, and is judged by The Association of Marketing and Communication Professionals. Other platinum winners include Aflac, Disney, Fidelity, Fred Hutchinson Cancer Research Center, Mercedes, Saatchi & Saatchi NY, United Healthcare and UPS.
Update: Custom infographics also win 2018 MarCom Gold award
On November 1st, 2018 — after this post was originally published — Cushman Creative was awarded another prestigious honor: a Gold Award from MarCom Awards for the Kelp-Beds Blog Infographics.
The MarCom Awards – one of the oldest, largest and most prestigious creative competitions in the world – recognizes outstanding achievement by creative professionals involved in the concept, direction, design and production of marketing and communication materials and programs. Judges from the Association of Marketing and Communications Professionals (AMCP) look for companies and individuals whose talent exceeds a high standard of excellence and whose work serves as a benchmark for the industry. Winners are selected from more than 300 categories in Print, Web, Video and Strategic Communications. Other top 2018 winners include Aflac, Fox Chase Cancer Center, Fred Hutchinson Cancer Research Center, IBM, Microsoft, Coca-Cola and Weber Shandwick.