The Science of Marketing Bioresearch Brands.™
Graphis Design Annual features Cushman Creative's Annual Report Work
Graphis Design Annual features Cushman Creative's Annual Report Work
Port Clyde, Maine – Cushman Creative, a design agency specializing in biomedical and life science marketing, received a merit in the Graphis 2017 Design Annual for its powerful work with the MDI Biological Laboratory located in Bar Harbor, Maine.
Graphis featured Cushman's 2014 Annual Report titled "Breaking Through", which celebrates the champions that make medical breakthroughs possible. It highlights the contribution of patients like marathoner Michael Westphal who are determined to raise awareness; scientists who push research farther each day; 'super' models like c. elegans; and the donors who enable research to continue. Breaking Through includes two patient stories paired with the insight of a scientist at the lab. The goal was to give readers a glimpse into the lives of those who are driven by the possibility of the next medical advance.
"We're honored to have our fundraising work acknowledged by a design journal as prestigious as Graphis," says Karan Cushman, CEO, Cushman Creative. "We positioned ourselves specifically to help scientific institutions like the MDI Biological Laboratory because we understand the importance of their work in advancing human health. The MDI Bio Lab is a highly-respected research institution doing critical research on the chronic diseases of aging. We partner closely with their development team to ensure we are translating their research into images and ideas that will grow support for their mission."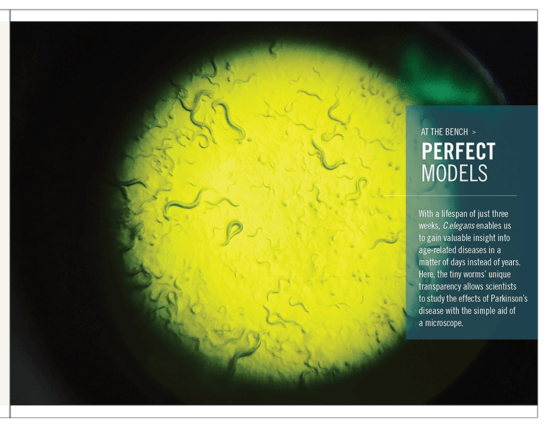 Last year, Cushman Creative was featured in the Graphis 2016 Design Annual for a Case Statement designed for MDIBL entitled "Catalyst for Cures." Catalyst for Cures was created to support a $15 million campaign to expand infrastructure and secure talent for its growing regenerative medicine focus. Because it was a Leave Behind, it had to capture the imagination of its audience before they even opened the cover. Cushman Creative has received several international design awards for this piece.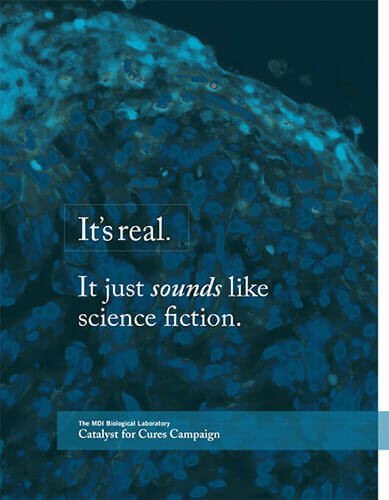 "We are so fortunate to work with Karan and her talented design team at Cushman Creative," said Jerilyn Bowers, Director of Development at Public Affairs at the MDI Biological Laboratory. "They are seamlessly integrated into our marketing and branding process and continually go above and beyond to meet our design needs."
You can find more information about the MDI Biological Laboratory and its research in aging diseases at mdibl.org.
The Graphis Design Annual is one of the most widely referenced sources for innovative communication design. Each year it features the latest and most distinctive international design work in a range of categories including Annual Reports, Branding and Exhibits, Logos, Packaging and Posters. This year 500 winners were selected from around the world (Hong Kong to Switzerland to Australia) and included top U.S. design firms Landor Associations and Pentagram, along with brands such as Neiman Marcus, The History Channel, Audi, Facebook and Condé Nast.
Founded in 2007, Cushman Creative is a branding and marketing communications firm that works exclusively with biomedical, life science and pharma brands that can improve quality of life. To see more work and learn about the firm and its services visit cushmancreative.com.
Additional credits to: photographer Rogier Van Bakel, writer Maggie Cohn and printer Penmor Lithographers.
***********
Press Contacts:
Karan Cushman, CEO, Cushman Creative, 207.372.8110 karan@cushmancreative.com
Jeri Bowers, Direct of Public Affairs, MDI Biological Laboratory, 207.288.9880 x 105 jeri@mdibl.org